Rights of Way Improvement Plan (ROWIP)
Ended on the 6 March 2009
(2)

2. The Definitive Map and Statement (DMS)
---
The Definitive Map and Statement (DMS) is a legal document that is maintained by Southend-on-Sea Borough Council as the Surveying Authority.
It comprises of:
The Definitive Map which records the routes of PRoW as they appeared on the ground on the 16th December 1949 4;
The supporting Statement which lists all PRoW shown on the Map together with a description for each entry;
A Modification Order which is a map and statement indicating any changes that may have occurred after the publication of the original DMS. The DMS can include a number of modification orders but in Southend there is, at present, only one.
Southend-on-Sea was a County Borough when the 1949 Act came into force on 16th December 19495 and hence Southend-on-Sea was the surveying authority until local government reorganisation in 1974 when this responsibility went to Essex County Council.
Essex County Council remained the Surveying Authority for the Southend area until 1st April 1998 when Southend-on-Sea Borough Council (SBC) became a unitary authority.
When the original DMS was drafted and published by Essex County Council in 1953, Southend-on-Sea was excluded under powers enabling the County Council to pass resolution that the area was so fully developed as to make a survey inexpedient. Southend-on-Sea therefore had no Definitive Map nor Statement until a change in the law in 19816 removed this resolution and surveying authorities no longer had the option of excluding built- up areas.
Prior to Southend achieving unitary status in 1998, Essex County Council produced a Blank DMS to formalise the area of Southend-on-Sea Borough Council and then published Modification No.1 (Borough of Southend-on-Sea) Order 1997, to add those PROW routes that had historically been surveyed and maintained. These documents now form the current DMS for Southend-on-Sea Borough Council which has a Relevant Date of 30th June 1997. It is noted that a copy of the Blank DMS has not been located although a letter confirming publication and delivery is on file.
The recording of a route on the DMS is conclusive evidence, in law, as to the status, position and existence of a PRoW but without prejudice to the existence of any other rights that may exist.
Once a PRoW is recorded on the DMS, it remains in place until there is a statutory order which may either close, divert or extinguish the route and a Modification Order made as a result7.
New routes can be added if there is sufficient evidence to support a change.8
The surveying authority has a duty to keep the DMS under continuous review.9
See Appendix 1 for list of Definitive Public Rights of Way in the Borough of Southend-on-Sea as recorded on the Definitive Map Relevant date 30th June 1997.
Plan 1 depicts an extract from the Definitive Map. The original is an Ordnance Survey Map at a scale of 1:10,000. The PRoW are shown by way of dashed line symbols and each path is numbered namely;
Footpaths are shown as dashed lines -------
Bridleways are shown as dashed lines with intermittent slashes -- I --
Byways are shown with dashed lines and intermittent v -- v --
Plan 1: Copy Extract from Definitive Map of Public Rights of Way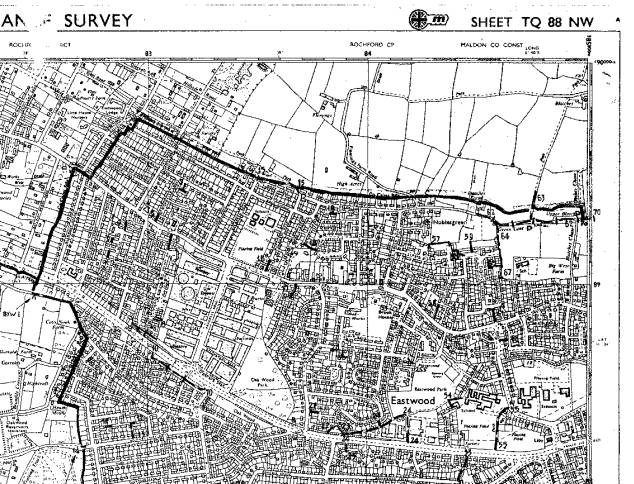 4
The National Parks and Access to the Countryside Act 1949,
5
The National Parks and Access to the Countryside Act 1949,
6
Wildlife and Countryside Act 1981, S58
7
Wildlife and Countryside Act 1981 - S53
8
Wildlife and Countryside Act 1981 - S53
9
Wildlife and Countryside Act - S53
back to top
back to top